Luke Jennings Tree Surgery Ltd
Hertfordshire & North London Expert Tree Surgeons
Hertfordshire's most trusted local tree surgeon
Luke Jennings Tree Surgery Ltd - Live, breath & protect trees.
We provide our clients with expert advice on their trees and ensure we deliver an outstanding service to all our customers. Our services are affordable prices for both domestic and commercial customers.
Our locally-based, highly skilled group of professionals can help you with every tree-related task- from planting and pruning to refining and removal.
At Luke Jennings Tree Surgery Ltd we offer a complete care and advice service for all customers across Hertfordshire, North London and Essex.
Dedicated tree cutting services across Hertfordshire
Based in Enfield, our friendly, local team is made up of qualified tree surgeons who offer a comprehensive range of tree-felling and thinning services.
Trees deserve special attention from experienced tree care professionals. At Luke Jennings Tree Surgery Ltd we guarantee that all unwanted trees are removed safely and swiftly. All our work is fully insured and guaranteed.
With years of experience working in the arboriculture industry, we aim to provide a professional service based on high quality work at competitive prices.
Hertfordshire's first choice for tree surgery services
Did you know that there is more than one way to 'trim' a tree? Or that a tree's branches and foliage are known as a 'crown'? The team at Luke Jennings Tree Surgery Ltd are happy to offer a range of services to keep your  trees in tip top shape.
branch-to-branch tree care
From our base in Enfield our dedicated team of experienced tree surgeons covers the whole of Hertfordshire, North London and Essex, delivering expert cutting, trimming and removals.
Sadly if a tree is diseased or posing a danger to people or buildings, it may have to be removed. Just give us a call – our crews of City & Guilds-qualified surgeons are on hand to carry out any task – no matter how big – quickly and cleanly.
Hertfordshire's premier commercial tree care provider
Our highly qualified team of tree surgeons is available for all commercial tree cutting or care projects. All our work is fully insured and guaranteed. Whether roadside shrubs need a serious prune or overhanging branches need scaling back, at Luke Jennings Tree Surgery Ltd we have the equipment and expertise to ensure a swift and safe solution.
Safe stump removal
Stump grinding a tree stump is the most cost - effective method for removing unwanted tree stumps from your property, using efficient machinery to cause minimum ground disturbance that can work on any site and any ground conditions. Once the stump is removed and left to sawdust it can then be covered by soil, leaving you with a result that is both green and clean.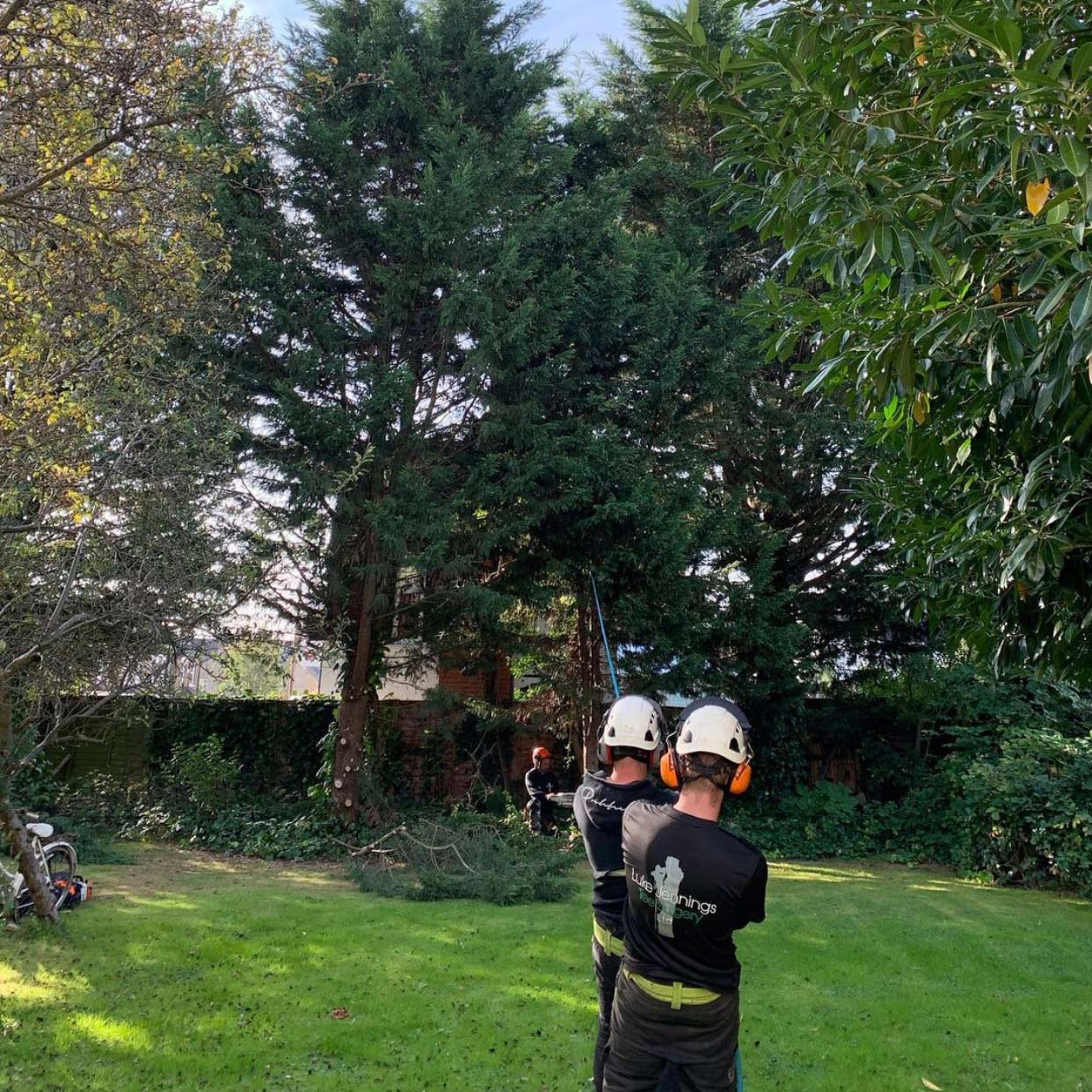 Tree surgery that keeps it green
Trees are not only the lifeblood of our business, but also of our wider environment too, and at Luke Jennings Tree Surgery Ltd you can be sure our methods are as green as the leaves we work with. Our comprehensive range of services is designed to keep your trees healthy and green spaces sustainable for years to come.
For domestic or commercial tree surgery services in Hertfordshire & North London, call Luke Jennings Tree Surgery on
07957 487062
or
07907 302441
or
01992 726317
and a member of our team will be happy to provide you with a free, no-obligation quote.
Great guy and great team relly helpful. Couldnt ask for better service.
Vinscia Fairbairn
21/10/2020
We engaged Luke and his team to remove 2 very large conifer trees. He did an excellent job and we are total pleased with his work. Very professional. Arrived on time and completed the work in a timely manner and removed all of the trees as requested. The team cleaned up and we couldn't have been more pleased with the work. Very good price for the work carried out. I would highly recommend this companies services.
I would highly recommend Luke and his team. They removed 7 large and unruly leylandii from my garden including stump removal - giving me a large part of my garden back. The team were very professional, quick and extremely tidy. There was no damage to any other plants and the garden was left immaculate. I couldn't believe how quickly they powered through the job the guys are real machines! Cheers Luke.
Luke and his team did a great job and left our garden clean. They were very professional and friendly. Highly recommended!
Thank you Luke and team for doing a superb job. Excellent job was performed by the team on the removal of a tree, garden was left spotless without a trace of debris insight.
"We engaged Luke and his team to remove 2 very large conifer trees. He did an excellent job and we are total pleased with his work. Very professional. Arrived on time and completed the work in a timely manner and removed all of the trees as requested."
"I would highly recommend Luke and his team. They removed 7 large and unruly leylandii from my garden including stump removal – giving me a large part of my garden back. The team were very professional, quick and extremely tidy."
"Luke and his team were so professional amazing work would recommend them highly…they did my work few months ago and I can't say enough thanks to them for amazing, polite, professional, quality team the work they did is and was above 5 star!"